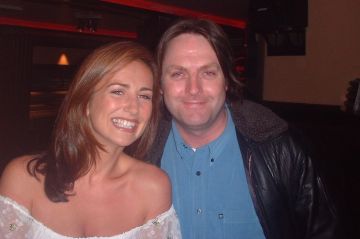 ...because you're not really a very good-looking woman at all actually.
This is one of the things that amuses me about Ireland. As long as you're a famous Irish woman, under menopausal age and don't have an arse like a Clydesdale horse, all and sundry will proclaim that you are beautiful. Even when you're not. What's going on?
Take Lorraine Keane for example. Supposedly she's walking viagra but to me she's just an alright looking bird, bit skinny, who gets to wear nice clothes on telly while talking reams and reams of vitally unimportant shite* about some celebrity adopting a one-legged orphan from Guatemala. But, she's
relatively
glamorous and stuff so every time you read anything about her, it's the 'lovely Lorraine' and the 'sexy host' and 'Glamour puss' Keane. Me arse.
It's not a recent phenomenon either. For God's sake, back in the eighties, feckin' Biddy from Glenroe was virtually the next Sophia Loren according to the Sunday World. She achieved this despite regularly appearing on screen in wellies and shit-splattered overalls, while checking backed-up hens for eggs with her bare hands and talking to husband Miley about potato blight. Fuck me pink(s). Nevertheless, it was widely accepted that she was the next Maureen O'Hara.
Glenroe was full of other yokes that the media loved to call gorgeous. Terry Killeen was a character that was humping Dick Moran and because she was blonde, slim and wore make up, the press was creaming itself over her for weeks. 'Racy' they called her. There was another blonde yoke worked in the pub in Glenroe who was a compulsive liar and had a witch's mole on her chin, but guess what, she was sex on legs too. Ach will you ever piss off with yourselves.
In the modern era, besides Lorraine Keane, we are apparently in the midst of a sex-siren boom. I think all these rides of women are being farmed somewhere at a secret midlands location, using an original prototype recognised hottie like Theresa Lowe off the seminal RTE quiz 'Where in the World'. I imagine Lowe to have gremlin-like qualities and every time the media needs a new beauty to talk up, they defrost her from the cryogenic chamber where she sleeps and throw a bucket of water on her. And duly, out pops a few absolute, ahem, stunners. Like Suzanne off Fair City, or Bertie Ahern's daughters. Although I think someone fed poor Suzanne after midnight. Or Amanda Brunker and the Kaneswaren sisters. Oh and lest we forget, any old munter that wins the Rose of Tralee - instant babe status.
How are we supposed to be a nation of begrudgers with all this aggrandising of ordinary-looking women going on?
*Thank you Fitzbollix
.