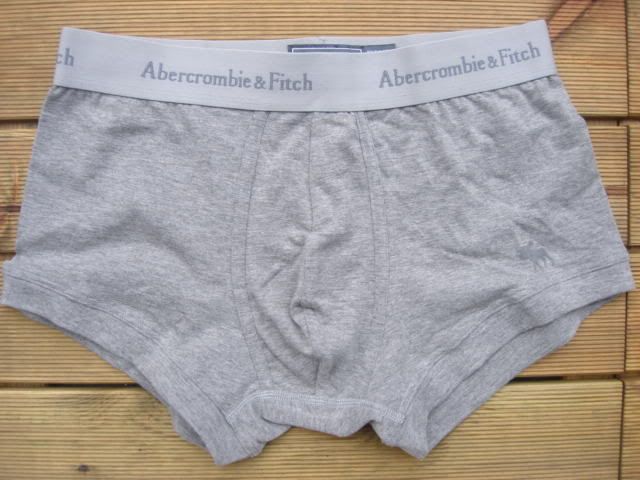 I drove to Limerick and back there on Sunday and it was when I stopped for a pee in Borris-in-Ossory that I got to thinking about underpants.
I was hoisting up my undergarments and I epiphanised about how, in many ways, the phases of my life have neatly coincided with the evolution of my choice of undies as I aged.
I first remember wanting to wear underpants like my Dad when I was a kid. Like most sons, my earliest recollections in life involve wanting to emulate my father in every way. Yes, right down to his underpants; I wanted to be a chip off the old jock. Eat your greens I was told, and you'll grow up big and strong like your Daddy. I must admit that as I looked from the plate of cabbage to my Dad's outsize Y-fronts drying on the clothes horse in front of the fire, I had my doubts. Those gargantuan yokes looked a gusset like too far, considering you could probably have used them to stretcher injured children in a war-zone. Or as catapults for boulders.
Anyway, Y-fronts were all the rage back then. You could choose any sort you liked as long as they were the ones your mother decided you had to wear. There were a few lame attempts at handing-me-down some awful Paisley ones but I drew the line there. I had smelled some of my older brothers' farts at close quarters and the thoughts of wearing what was once the only barrier between their arses and a mild nuclear meltdown, filled me with utter dread.
All stayed quiet on the Y-front until I decided I had to get some street cred. Around the time I decided I now needed a 'proper' haircut I also decided I needed 'proper' underpants and Ma McDanger's veto in both areas was removed after terse negotiations. This was the period in history when boxer shorts were just starting to appear in shops here but the odd thing was they were considered a novelty or the type of thing you only bought as a joke. Then they became the norm and I must admit, I ran with the herd and my personal favourites were a musical pair for Italia '90 that played the Olé, Olé tune. However, this marked a brief (ha ha) re-intervention in matters underwear by mother, who nearly took the head off me when we went to Mass and a pious genuflection prompted a blast of Jackie's Army throughout the church. The musical jocks were worn on a strict rota basis from then on.
I also had a very nice silk pair that I was almost afraid to wear they were so nice.
In any case, the boxer short era continued for the next two decades, right up to the present day in fact. However, there have been many
types
of boxer shorts, subtle nuances within the genre. The first few years were the 'any' years. As in, any sort will do, they're boxer shorts, they're well cool.
Then came the anti-Dunnes years. This era dawned in college when one had grand designs of bed-hopping around campus like a Duracell Kangaroo on viagra, and a great fear was being seen semi-naked and bashful in something that all the other lads were wearing because they were 3 for a fiver off Henry Street. So basically, as long as they didn't come from Dunnes or other cheap chain stores, they were good to go. An added advantage was that they didn't get confused in the laundry with my Dunnes-shopping brothers', which was still easy enough for my mother to do despite the fact they glowed green and rambled about the house on their own, occasionally jumping out from behind the couch to frighten visitors.
By the way, I still hardly ever pulled despite my endearing conscientiousness but it was nice to feel uniquely safe in my undercladding on a night out - in the same way that years ago, clean ones offered peace of mind to fretting Mammies in case their sons or daughters were involved in an accident that required hospitalisation.
Then, after starting to earn money, it was time for the 'expensive jocks' phase. Yes, sigh, what can I say, it was disposable income looking for a welcoming home and it found one in places like Brown Thomas - brown, eh? ha ha - and Jack and Jones, at a tenner a skite. Nice thick comfortable waistbands, fashionable label, able to hold their own, and the rest, in female company. And then I met Miaow Cow about ten years ago and still spent a small fortune on jocks for some time afterwards despite the fact I only had this captive audience of one (well, two, along with
mad lad
in the gym. Staring fecker.) and if she was willing to overlook my various other foibles and shortcomings (stop giggling down the back) then I'm sure the cut of my undies was low on her list of priorities.
So of late I'm going through the 'economy jocks' phase. I still usually buy 'nice ones' but only in TK Maxx and if I can't find any in my size in their mess of a display, I give in and buy some in Dunnes. So I'm still a bit stupid but not as expensively so. Like, who cares what I wear down there anyway, herself is long past giving a damn as long as they're not (a) too tight, (b) sequined/leather/frilly or (c) hers.
And that sounds fair enough to me.
By the way, can I just say Borris-in-Ossory is a great town for pissing in as I do so very regularly. Unlikely to feature as a cachet in tourism brochures any time soon, but true nonetheless.